Allium species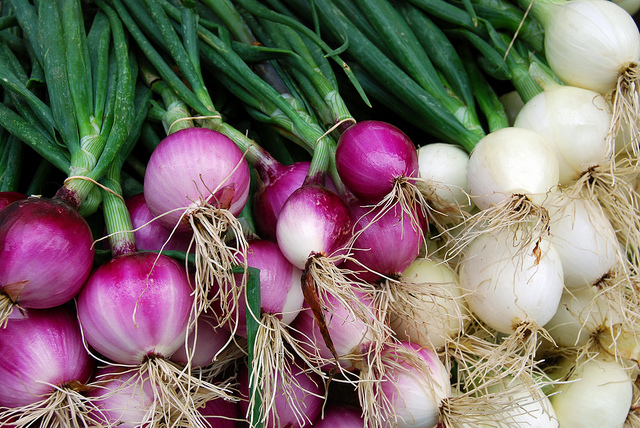 Onions are a staple most of us use daily, so why not grow your own organic supply? Even if you just pop in some shallots, it's well worth the effort to have them on hand for that next stir-fry.
Try mix planting some with your herbs and flowers – easy!
When can I plant onions?
It depends upon the variety you plant but as a general guide:
Dry temperate regions: March, April, July to October
Temperate & cool regions: September to March
Warm temperate and sub-tropical regions: April to June
Semi-arid and arid regions: March to October
Tropical regions: not recommended
Varieties
Within the onion family there are a number of varieties to try out, with some more difficult to get a hold of than others. It's important to select a variety that is suitable for your regions climatic conditions. By choosing a number of species, you can work towards having a continuous supply.
Welsh or bunching onion (Allium fistulosum) : a non-bulbing spring onion with a mild sweet flavour that is extremely hardy. Once established clumps can be divided for propagation.
Potato Onion: Each potato onion you plant will produce approximately 15 more bulbs, and by saving around one sixth of your harvest each season you can continually replant. The pungent flavour of the potato onion makes them ideal for winter soups and stews.
Shallots: When grown from seed shallots produce only one bulb each. If however shallot bulbs are replants, each bulb will produce around ten new bulbs over the growing season. They have a mild sweet flavour and soften easily for making sauces.
Egyptian Walking Onions: Also called Tree Onions, these are very tough plants that reproduce from bulblets that grow on the end of leaves. They are a characterful plant and wonderful for growing with children.
Chinese onion/Rakkyo: A dense evergreen clumping onion with attractive pink flowers used for cooking and pickling.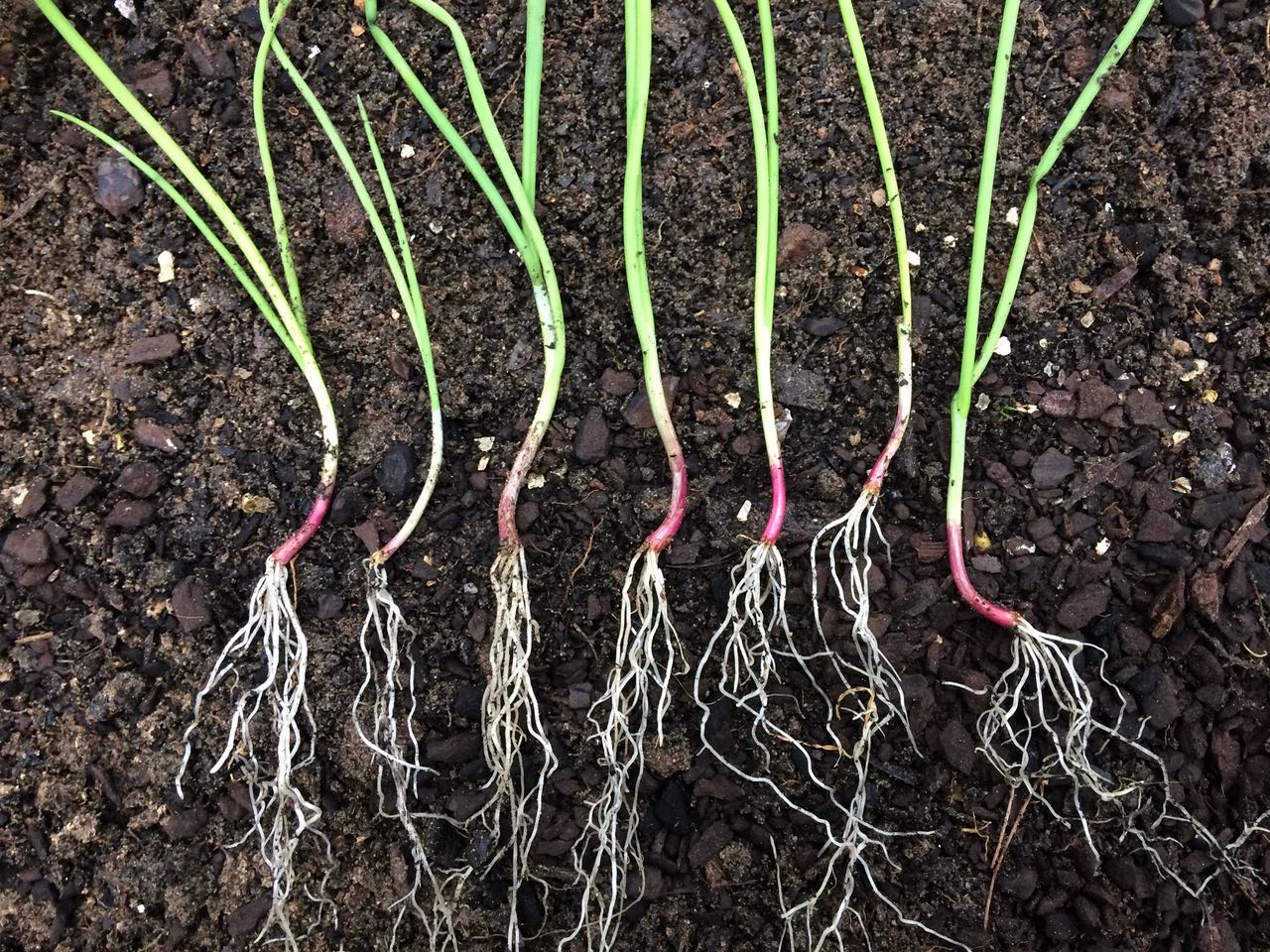 Seeds or seedlings?
Planting seedlings is an easier choice although either is fine. Plant seedlings when they are around 10 to 15 centimetres tall. Start by making a 5 centimetre groove in the soil then tip the seedlings out of the tray and soak them in water to help separate the plants without breaking too many roots. Don't worry too much though because they are pretty tough. Lay each seedling down in the groove and backfill with soil to cover the roots. Initially the plants will be laying flat but within a week their roots will grow and they will stand upright again.
Growing Tips
Plant in full sun light.
Provide a sweet (alkaline) soil that is well drained.
Avoid high nitrogen fertilisers such as poultry manure and fish emulsion. Aged sheep or cow manure is a better option. If you are unsure what to use, pop into your local nursery and ask.
Add sulphate of potash.
Know your cultivar
Not all onions get planted at the same time. Check which time your cultivar needs to be planted and if it has any special requirements.
Rotate your garden beds
Onions are particularly vulnerable to soil borne diseases so ensure you rotate your beds. It's best not to grow onions in beds that have had leeks, garlic, or shallots in them in the last 3 years.
How about if I have a balcony garden?
You can still grow a few onions in a container. Shallots are a great option with limited space, or you can try cluster planting some onions by making a circular grove with your finger in the soil and planting your onion seedlings in the groove radiating out. Make sure you use a good quality potting mix.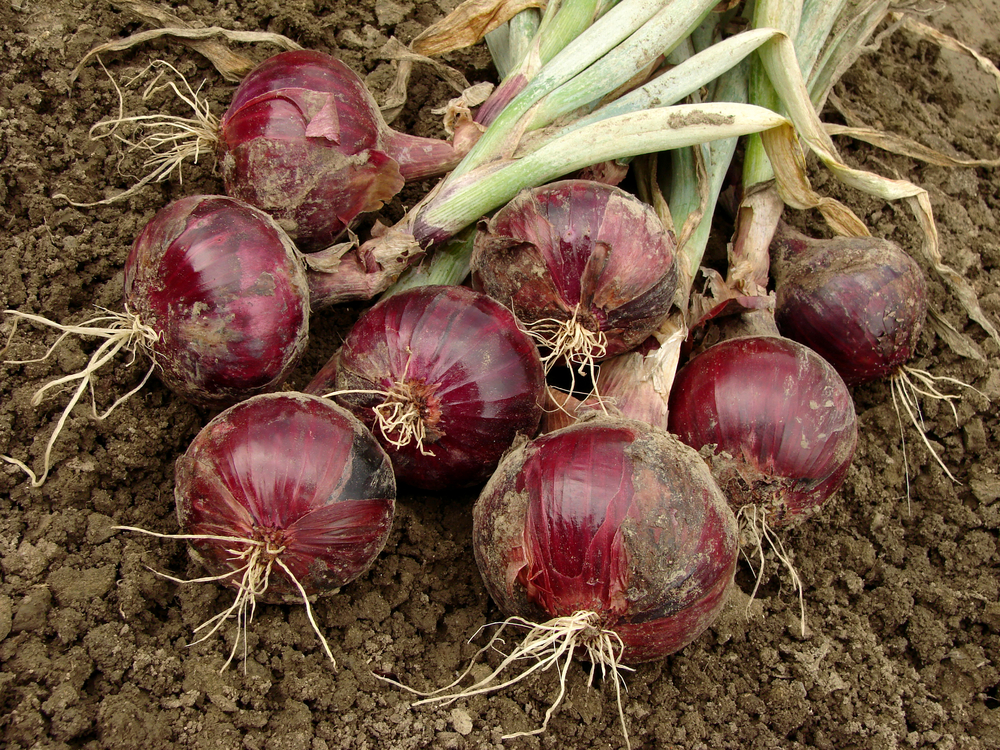 Harvesting and storage
Carefully lift your onions and leave them to lie in the full sun for 3 to 4 days so that the skins fully harden and dry off. You can then either plait them together in strings out of direct sunlight or store them in netted bags. Don't be tempted to prematurely break off the leaves in an effort to speed up maturation. It's important that your onions are left to their our devices.
Use your brown onions for general cooking and stews, and your purple and white onions for salads. Onions can be stored up to 8 months in dry well aerated conditions.
Pests and diseases
Onions tend to have few problems with pests and diseases. Black onion aphids usually occur when plants are stressed from poor soils, water logging or not enough sunlight. You can squash them with your fingers or a small paint brush, or use a mild soap spray or white oil if there are many but try not to avoid this if possible.
Where can I buy seeds?
Go to your local nursery or search for seed stores online. Try to buy seeds that have been grown in Australia. You could also join a local savers group.
Happy planting!
SaveSave
SaveSave
SaveSave
SaveSave
SaveSave
SaveSave
SaveSave
SaveSave
SaveSave
SaveSave
SaveSave
SaveSave
SaveSave
SaveSave
SaveSave
SaveSave
SaveSave
SaveSave
SaveSave