Botanical name: Rheum rhabarbarum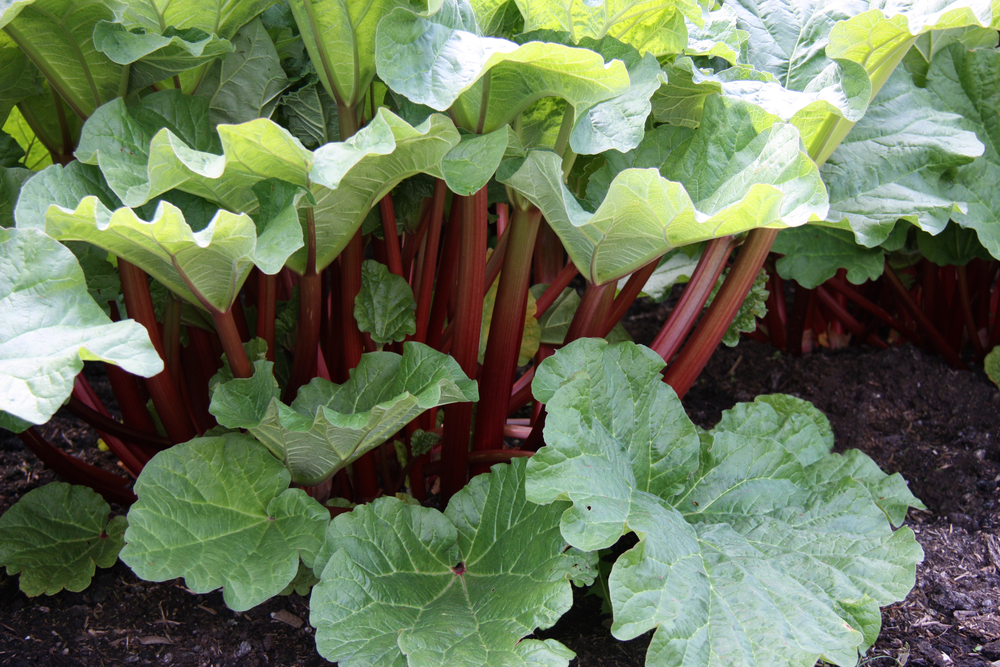 It's the vegetable that just keeps on giving; plant it once and you'll be harvesting delicious stems for many years to come from this tasty perennial. It's striking red stems and broad green leaves will make an attractive feature in your veggie garden too.
When can I plant rhubarb?
Rhubarb grows best in cool to temperate regions with good rainfall.
Dry temperate regions:  July to September.
Temperate & cool regions:  July to September.
Warm temperate and sub-tropical regions:  generally not recommended but you can try growing rhubarb in raised beds with excellent drainage.
Semi-arid and arid regions:  generally not recommended.
Tropical regions:  generally not recommended but you can try growing rhubarb in raised beds with excellent drainage.
Varieties of rhubarb
Victoria:  a hardy variety that has large reddish-green stems with a mild tart flavour.
Ruby Red Dwarf: a variety growing around 60 centimetres in height with short thick stems and blue-green leaves. Great for smaller spaces and container growing.
Ever Red:  Produces prolific crimson red stalks all year round and is suitable for container growing.
Winter wonder:  this rhubarb doesn't die back over winter.
Big boy:  A prolific variety with bright red stems that are coloured all the way up to the leaf vein.
Crown cherry red:  A sweet variety that can be harvested all year round. Red stalks with excellent flavour.
Wandin Red:  thick deep red stalks that can be harvested all year round.
Red Dragon:  a hardy variety with large long deep red stems.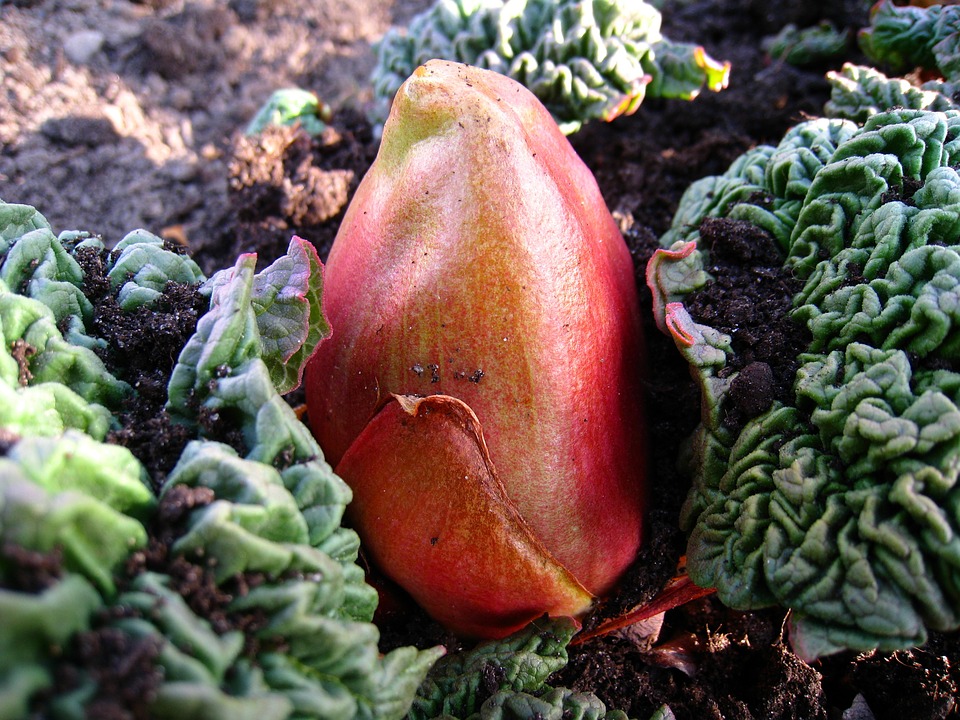 Plants, crowns or seeds?
Rhubarb is usually grown from crowns, which are divided sections of the larger root mass of the plant that include growth 'eye' buds. This is the quickest and easiest technique and it will mean that you will get genetically identical plants. Winter and early spring is the best time to plant your crowns and it's important to ensure the growing tips are above the soil. Sowing from seed will take longer and will require a germination temperature of between 12 to 15 degrees Celcius. You can also choose to purchase plants which can be put in at any time of the year.
Growing tips
plant in an open sunny position, ideally with morning sun and some afternoon shade.
prepare garden beds with plenty of organic matter as rhubarb are hungry feeders.
provide soil with perfect drainage and water deeply less often.
over summer plants can suffer from heat stress so pay special attention to them over this time and increase watering.
mulch plants in spring with well-rotted compost.
feed with seaweed extract once a month during the growing season to encourage stem formation.
cut off any flower stems that form.
Try growing in a container
If you are short on space, try growing your rhubarb in a container. Ruby Red Dwarf or Ever Red are good choices for container growing. Choose a container that is at least 35 litres. Water well in summer to avoid the roots drying out and shrinking. Fertilise with compost tea and weak solutions of fish emulsion.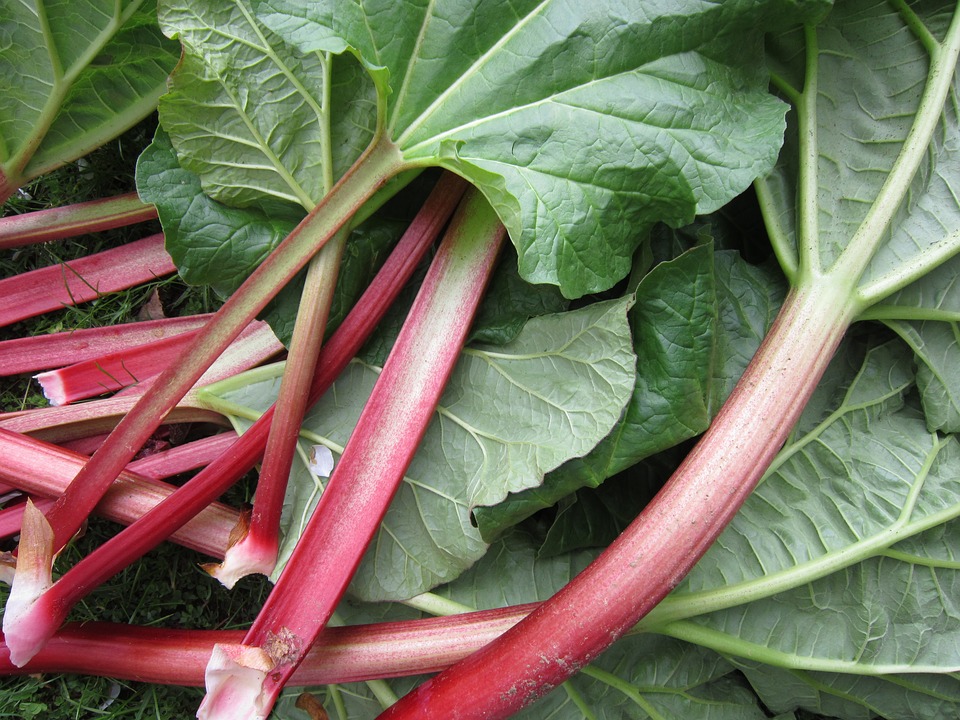 Harvesting
It's best not to harvest your rhubarb in the first 12 to 18 months, or to pick it very lightly. Harvest the outermost stems first by pulling them downwards and chopping the leaves off and putting them in the compost. Always leave more than half of the stems on the plant so it can recover quickly.
Storing and use
It's always best to pick vegetables fresh but rhubarb will keep in the fridge for up to 2 weeks, freezes well and can also be used in preserves and sauces. Use your rhubarb in deserts, on breakfast cereal and in baking. It goes well with custard, orange juice, ginger, apple and strawberries.
Eat only the stems; the leaves are poisonous
The leaves of rhubarb are poisonous so instead of eating them or feeding them to chooks or other livestock, put your leaves into your compost.
My rhubarb has green stems, can I still eat it?
Yes, rhubarb stem colour varies but whatever their colour they will still be tasty. Sometimes being in the shade will also make them more green, and plants will generally be the reddest in the cold weather.
Dividing
Lift and divide your rhubarb every 4 to 5 years in winter and space out the crowns when your replant them because rhubarb plants will become congested by this time and will produce less stems of poorer quality. Use a sharp spade to make the divisions and ensure that there is at least one healthy bud on each piece. Share extra pieces with friends, family and neighbours.
Do you have a rhubarb plant that has been divided and stayed with your family over generations? Or a favourite rhubarb recipe?
SaveSave
SaveSave