Raphanus sativus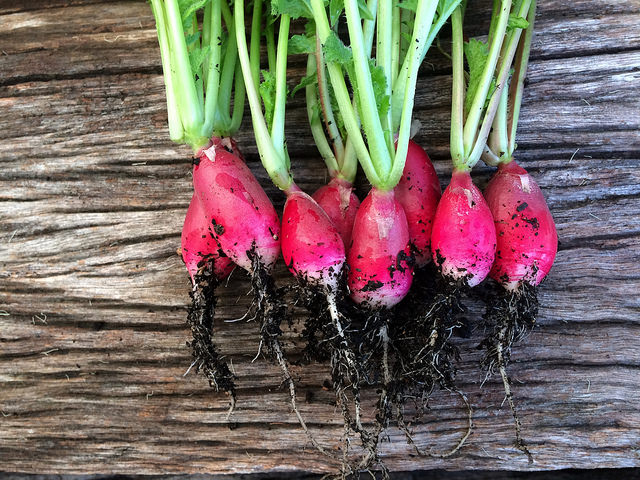 While I'm not a huge fan of radishes, I love growing them. They are the quickest and easiest vegetables to grow and are highly rewarding. I quite often grow them to give away.
When can I grow radishes?
Generally speaking, radishes can be grown all year in all regions of Australia. Different types of radishes are best suited to being planted at particular times.
French radishes (most common) – spring (ideal) to autumn
European radishes (larger, longer) – late summer, autumn, winter
Asian radishes (also known as daikon) – autumn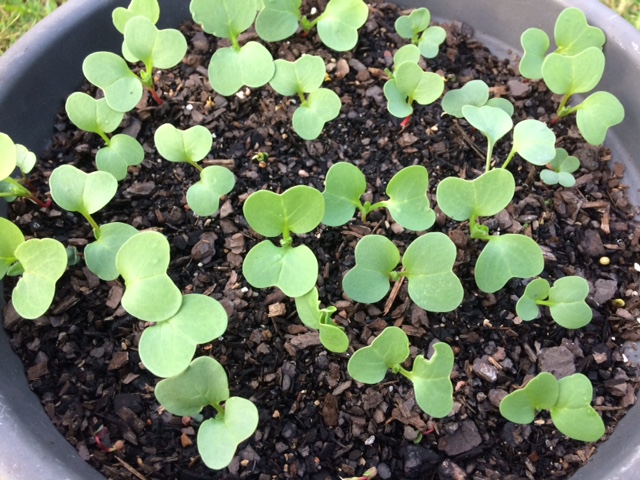 Seeds or seedlings?
Plant your radishes using seeds. Like other root vegetables, radishes don't transplant well.
Varieties of radishes
French radishes
Champion (Cherry belle):  deep red radish with white flesh, smooth to oval in shape, and mild in flavour
Scarlet Globe:  bright red with white flesh and smooth and round
French Breakfast: decorative scarlet radish with white oblong tip and mild in flavour
European radishes
Black spanish round:  large turnip shaped, with deep black skin and crispy white flesh
Asian radishes
Daikon:  white flesh and generally harvest around 20-35cm
China Rose:  a Chinese winter radish with smooth rose-coloured skin
Plum Purple:  mild crisp sweet firm white flesh and purple skin
Sparkler:  round to oval shaped, scarlet skin with a splash of white on the lower third, and sweet juicy flesh
Watermelon:  sweet, large round white radish, tinged pale green and unique pink flesh
White Icicle:  white skinned, tender and mild favour, doesn't go pithy when mature, best summer variety
Container planting
Radishes will grow beautifully in a container either on their own or in a mixed tub.
 Growing tips
provide a position in full-sun to semi-shade
radishes prefer loose, well-drained, slightly acidic soil (pH 6-7) that is free from rocks and has been enriched with plenty of organic matter.
don't over-feed your radishes because this lead to excessive leaf growth at the expense of root growth. It can also result in forking.
water frequently to support rapid growth and crisp texture
keep garden beds well weeded so plants don't have to compete with weeds
radishes have few pest problems but keep an eye out for any plant damage

Harvesting
You can harvest your radishes in as little as 20 to 70 days, depending upon the variety you select. It's important to harvest them as son as they are ready because if they are left they can become woody and tough.
Where can I buy seeds?
Go to your local nursery or search for seed stores online. Try to buy seeds that have been grown in Australia. You could also join a local savers group.
Happy growing!
SaveSave
SaveSave
SaveSave
SaveSave
SaveSave
SaveSave
SaveSave
SaveSave
SaveSave
SaveSave
SaveSaveSaveSave
SaveSave
SaveSaveSaveSave
SaveSave