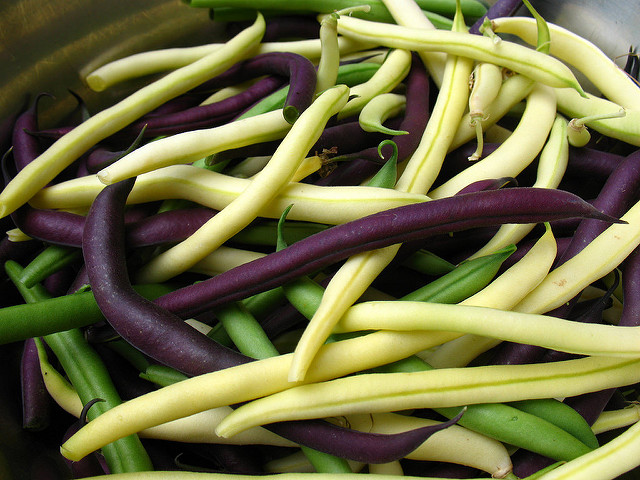 The year I turned three my dad worked part-time and I spent hours in the vegetable garden with him growing everything imaginable and in all the possible colours it came in. This meant we grew rows upon rows of dwarf and climbing beans in greens, purples and yellows, and with different coloured flowers.
It's so much more fun growing colourful veggies and it's a great way to interest children in gardening and in eating their vegetables.
Description
Beans are a quick maturing crop in the Fabaceae family. For high yields they require warm temperatures. Nutritionally they contain good levels of carbohydrates, proteins, vitamin A, vitamin C, folate, and fibre.
Varieties of beans
Bush Bean (Phaseolus nanus)
Bush beans do not require supports and are usually stringless, but do have a shorter bearing season and are lower yielding.
Cherokee wax (Butter bean):  a stringless early cropper with yellow pods that is highly productive.
Brown Beauty:  a heavy cropper with long pods.
Gourmet Delight: a stringless bean with glossy dark green pods.
Plazza:  a green European flat stringless bean.
Redlands Pioneer:  a stringless flat green bean.
Royal Burgundy:  a purple round stringless bean that turns green when cooked.
Strike:  a small round stringless green bean.
Sunray:  a round green bean with a long harvest time and some resistance to rust.
Climbing Beans (Phaseolus vulgaris)
These beans require a structure for support but are great for taking advantage of vertical space. They are also advantageous in warm climates as they allow for more air circulation which lessens the chance of fungal problems.
Blue Lake: a reliable stringless bean with rounded pods and tolerance for the summer heat.
'Roc D'Or Bush:  a yellow bean with rounded pods, purple flowers, high yields, and good disease resistance.
Kentucky Wonder: an old cultivar with great flavour, and heavy cropping.
Purple King: a bean with purple pods that turn green when cooked.
Scarlet Runner: a variety with red flowers and a long cropping season.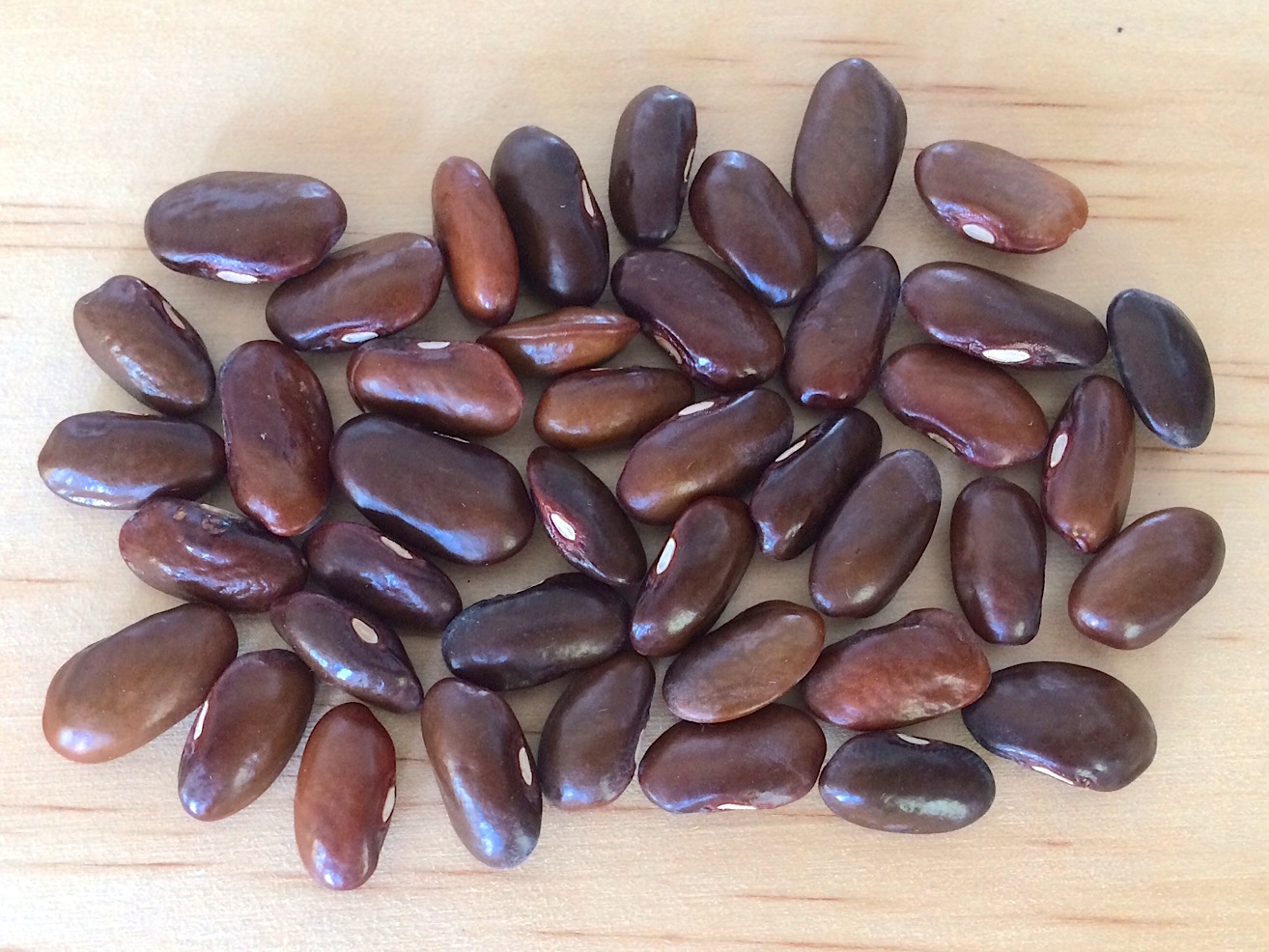 Grow directly from seed
Always grow your beans directly from seed because they don't like being transplanted. The optimal soil temperature for germination is 24 degrees celcius, but they will sprout within temperatures of 15 to 35 degrees. Water at the time of planting but then wait until they have sprouted before watering again because they are prone to rotting. Avoid planting during rainy conditions. It can also be useful to provide some protection from birds during this early stage because the sprouts do make a tasty meal. If your beans haven't sprouted, check that they haven't been eaten.
Plant in succession
To provide an ongoing harvest, plant seeds every 3-4 weeks. This way you will have plants at different stages and you will have plenty of beans to munch on and share with others.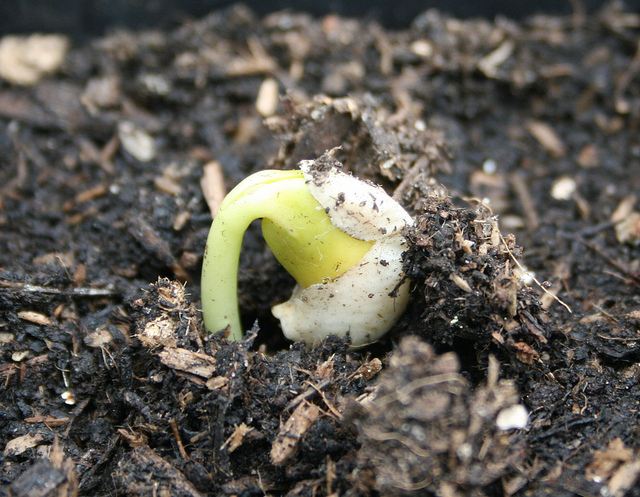 Provide quality soil
Beans are not hungry feeders, but can be sensitive to salt levels in the soil. They like a well-drained soil with a pH of between 5.5 to 7. Mulching can be used to suppress weeds and retain moisture.
Water regularly
Beans have shallow roots so do need regular watering, but like most plants they don't like their roots being constantly water logged. Also be mindful that if there leaves stay wet for long periods this can encourage mildew. A good solution is to water in the morning so the sun will dry them off.
Find a sunny position
Beans love the sun so choose a position with plenty of sunlight. Temperatures between 16 and 30 degrees celcius are optimal.
Avoid over-fertilising 
Your beans will like a good supple of potassium and trace elements which you can achieve by applying lucerne mulch, rock dust, sulphate of potash or banana skins. You can also add a tonic of seaweed and fish solution every two weeks. It's important not to over-fertilise because this will lead to excessive leaf growth at the expensive of producing pods. It can also make plants more susceptible to pests and diseases
Provide shelter from the wind
Wind can damage leaves and flowers, and cause the pods to rub up against the supports. Shelter can be provided be choosing a position that is already sheltered or growing other crops that provide some protection.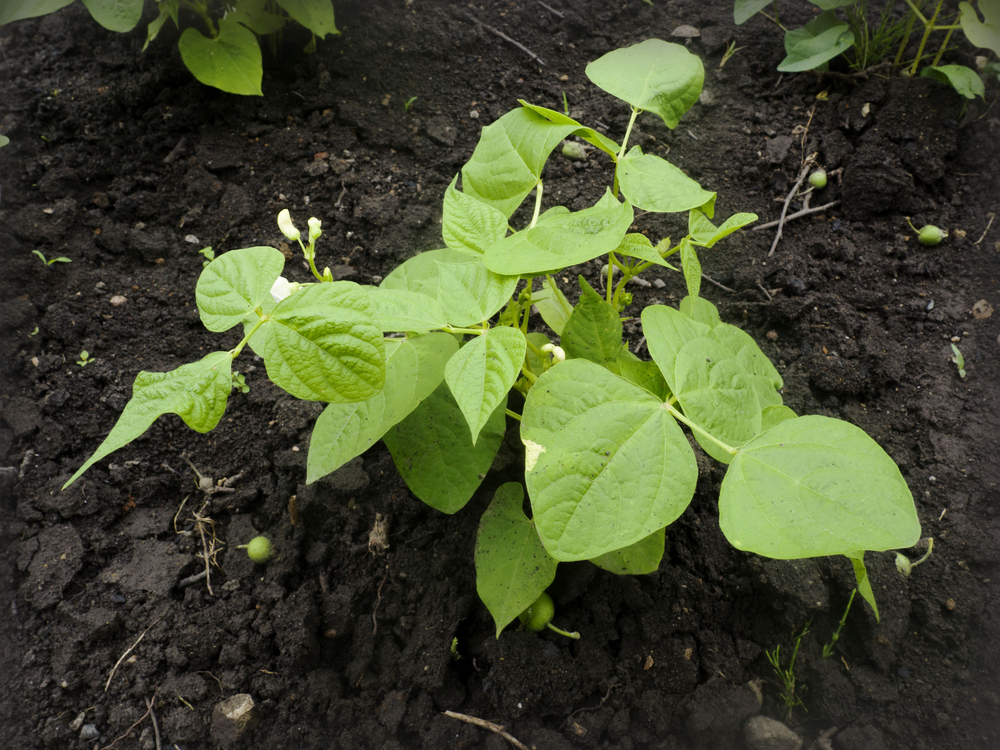 Provide a climbing frame
Be creative when building your climbing frame. See what you already have at home, it doesn't have to be fancy. Some stakes with string is perfectly fine. Even bush varieties can benefit from being staked.

Nitrogen fixing
Beans are in a group of plants called legumes that have the unique ability to fix their own atmospheric nitrogen through the symbiotic relationship with nitrogen fixing bacteria. This not only benefits legumes but can be used to enrich the soil for other plants to make use of.
Pests and diseases
Some problems you may come across while growing your beans include birds or other animals pulling out seeds or seedlings, bean rust (fungal disease), bean fly, two-spotted mite, and white fly. You can protect young seedlings with a physical barrier, ensure there is adequate air circulation or grow climbing beans if humidity is a problem and encourage beneficial insects by growing flowers amongst your veggie patch.
Harvesting your beans
Dwarf beans take around 8 weeks to produce harvestable pods, while climbing beans usually take around 12 weeks. Pods are picked before the seeds are fully developed as they are sweeter and crunchier at this time. Regular picking encourages further pod production and excess beans can be blanched and frozen to use later on.
What do you use as a climbing frame for your beans? What are your favourite variety? My dad has always really liked Scarlet Runners.
SaveSave
SaveSave
SaveSaveSaveSaveSaveSaveSaveSaveSaveSave
SaveSaveSaveSave
SaveSave
SaveSave
SaveSave
SaveSave
SaveSave
SaveSave
SaveSave
SaveSave
SaveSave
SaveSave
SaveSave
SaveSave
SaveSave
SaveSave
SaveSave
SaveSave