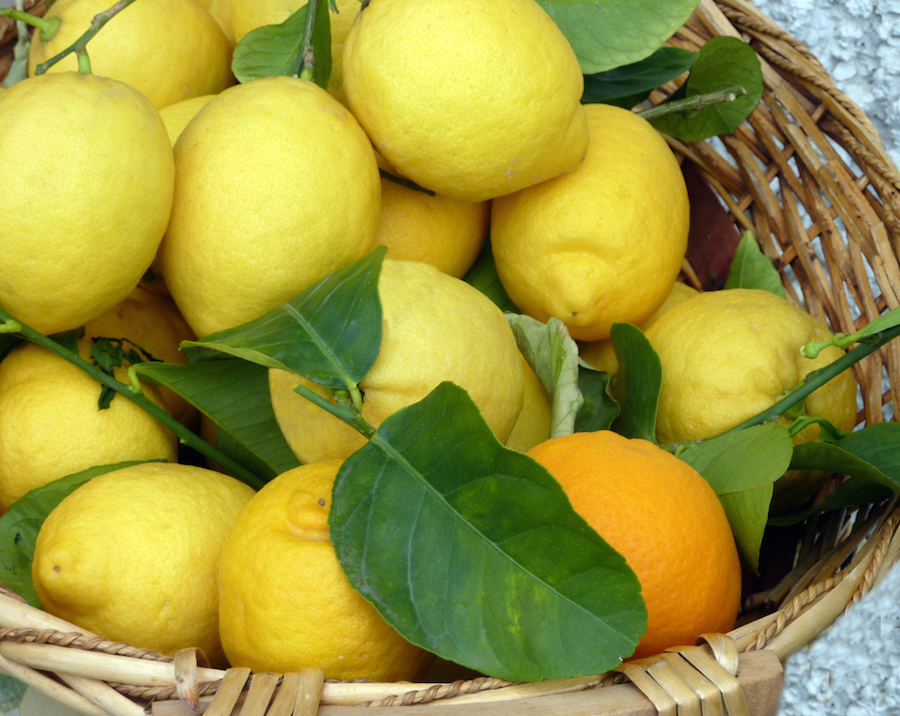 Popular varieties grown in Australia:
Eureka:   The most widely grown lemon throughout the world with large fruit, few seeds and a high acidic content. Grows 6 to 8 meters, with the dwarf variety growing 2 meters. Fruits all year with its heaviest crop in winter. Great for temperate climates and inland regions.
Lisbon:  The most commonly grown lemon in Australia. Producing high quality lemons that are thin skinned, small to medium in size and have a high juice content. Trees grow 8 meters high with dwarf varieties growing 1.5 to 2 meters and are very spiny. They produce one prolific crop late winter to spring and are tolerant of both frost and extreme heat.
Meyer:  Slightly sweet fruit with a lower acidity. Not a true lemon but probably a natural hybrid between a lemon and an orange. Trees grow 2 to 3 meters, are almost spineless and are very hardy.  They are the most cold tolerant lemon and produce numerous crops throughout the year.
Bush or Rough lemon:  A spiny plant 4 to 5 meters in height with medium to large fruit that has thick, rough skin and lots of seeds. It grows wild in subtropical Australia and is often used as a rootstock for grafting.
Fino:  Smooth rind, thin skinned and thorny. Mainly bears fruit in winter but can have fruit all year round in warm coastal areas.
Lemonade: Variety originating in Australia. Sweet and can be eaten straight from the tree like an orange. Produces an abundance of fruit in mid-winter.
Can I grow a lemon from a lemon seed?
Yes you can but it's a good idea to think about how much space you have because you will get a much better result from a grafted tree and it will fruit in a considerably shorter period of time. Usually it is only bush lemons that are grown from seed.
Select the correct rootstock
The rootstock is the bottom half of your grafted tree and by choosing the correct rootstock for your area, soil and climate you are the first step toward growing a healthy lemon tree. Rootstock are particularly important for building resistance to soil borne pests and diseases such as phytophora and collar rot. Most of the time you will buy a pre-grafted tree so you just need to check that the rootstock is a good match. A great way of ensuring this is to visit a local nursery and talk to horticultural staff. Joining a community garden group in your area is also helpful for finding out this information.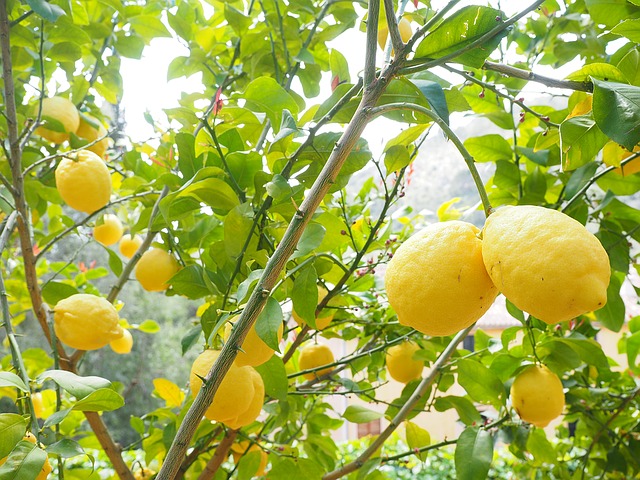 Choose a sunny location
Lemon trees love the full-sun and prefer to be planted into warm soil (14 degree celsius or above according to expert Ian Tolley). Trees in containers can sometimes need some protection from the sun on their trunks because they have less of a canopy to act as a screen.
Prepare your soil
Loosen the soil to a depth of around 1 meter and dig a hole around twice the size of the pot. If possible prepare your hole a few weeks early and add pelitised poultry or cow manure, compost and mulch.
Plant in a mound
Creating a mound is a great way of helping the soil to drain so the roots don't stay wet for too long. Build the mound around 15 to 30 centimeters in height.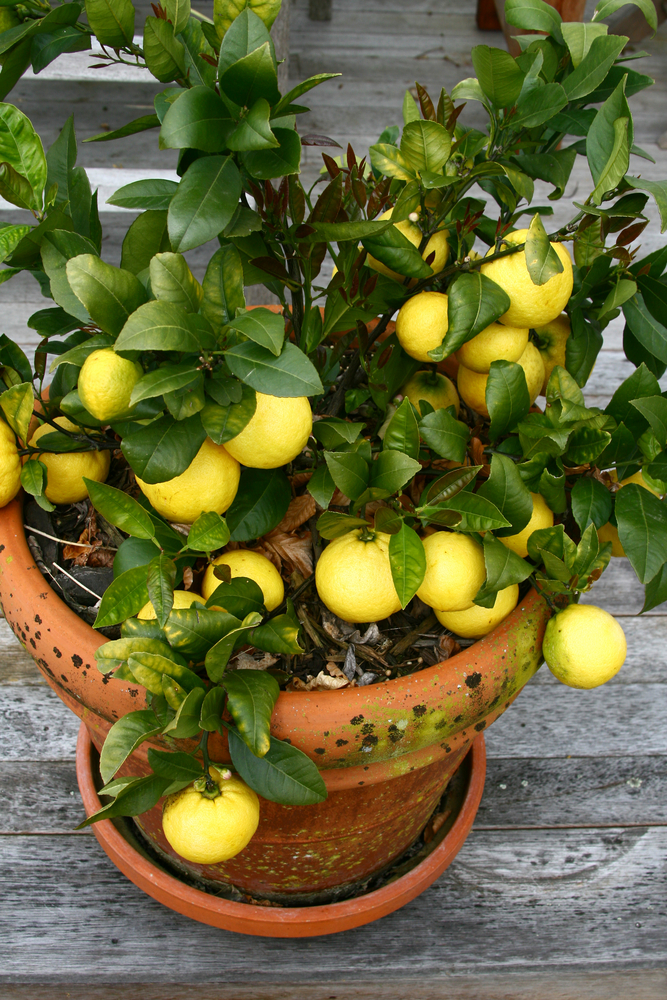 Try growing in a container
Citrus are happy in containers and will respond well to pruning. Start with a container of at least 40 centimetres in diameter then build up to between 50 centimetres and the size of a half wine barrel.
Choose a dwarf variety and use a premium quality potting mix. Lemons don't like having water-logged roots so ensure your container has good drainage. Use ceramic feet under the container instead of a saucer to aid air circulation. Feed at least four times a year.
When planting into the trees final container add some gravel at the base for drainage. Liquid fertilise every month and add dry organic fertiliser every 2 months.
Fertilising your tree
There are a number of different approaches to fertilising citrus and you need to decide what is the most practical for you. Many sources say to feed twice a year, but if possible it is better to space this out to at least 4 times a year. A feed every 4-6 weeks between spring and autumn which is the period of active growth is a great regime.
Apply well- rotted chicken or cow manure and compost or an organic complete fertiliser. A pH between 6 and 7 is ideal. Add liquid seaweed solution to boost soil activity. Apply 30 centimetres from the base out under the canopy, spreading evenly and watering well. Add trace elements twice a year. Avoid fertilising when in flower as this can lead to fruit drop.
Watering
Lemon trees have a fairly shallow root system but are sensitive to being water logged. Water regularly in dry hot weather but ease off in winter. Too much or too little watering can lead to fruit drop.
Pests and diseases
Keep an eye out for signs of pests and diseases. Scale, mealybugs, aphids and citrus leaf miner can be treated with white oil.
Pruning your tree
While it is not essential to prune your lemon tree regularly it is a good idea to prune it to a manageable size and shape. Initially prune off lower branches and select 3 to 5 main leader branches on your young tree. An upside-down pear shape is one approach but you you can be creative. Espalier can be great for small spaces.
Trim your tree after its main fruit harvest and cut out any dead or twiggy growth. By keeping the tree canopy fairly open more light will get in and this will encourage flowering and fruiting on the internal branches. Fruit will grow from new growth and semi-mature stems.

Harvesting your lemons
For the first two years twist off your developing lemons to allow your tree to focus on growing its branches and root system. Fruits will develop around 7 to 9 months after flowering. Use seceteurs to snip fruit off.
The great thing about lemons is that there is plenty you can do with excess fruit, including simple salted preserved lemons which make great gifts. Remember to share them with your friends, family, workmates and neighbours. If you are not sure who would like some post on social media, and take some to social events in a basket for people to help themselves to.
Do you have a lemon tree? Or do you wish for a lemon tree?
SaveSave