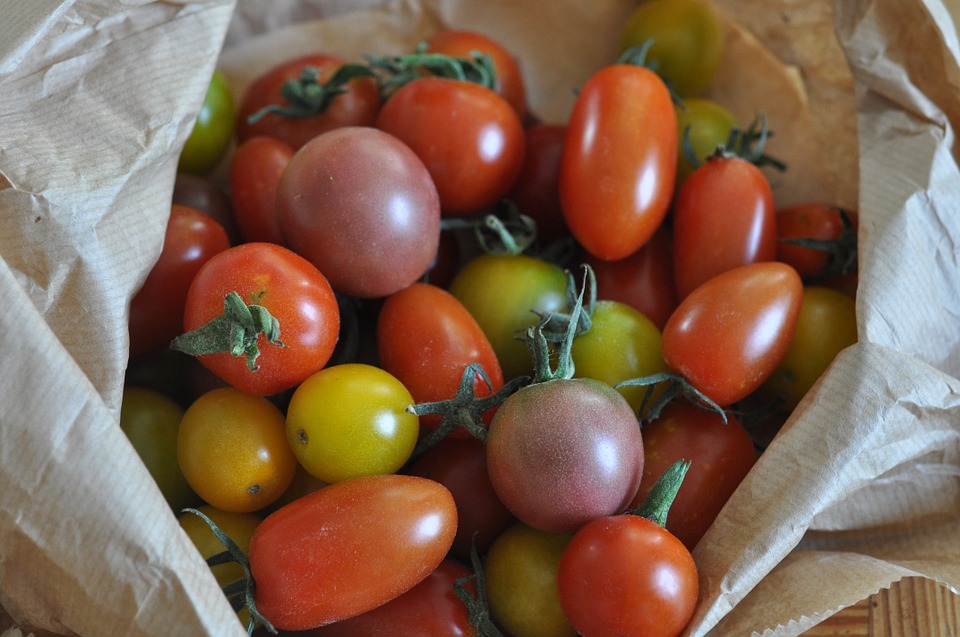 Home-grown tomatoes – yum! Need I say more? Pick them off the vine on a warm day and they just burst with flavor in your mouth.
If you only plant one thing this season plant a tomato. You won't regret it. Reduce those food miles and tickle your taste buds in the process.
Varieties
There are an incredible range of varieties to try of many shapes, colours and sizes.
If like me you only have a small backyard, try growing:
a cherry tomato in a large container
one of the hybrid tomatoes bred for pots and hanging baskets
I usually grow two or three small or cherry varieties in large containers and I end up with plenty to use and give away. Last year I grew a black, a red and and a yellow cherry tomato. The cherry varieties tend to be the most robust and more resistant to pests and diseases.
One good way of finding out what grows well in your area is getting in touch with your local seed saving network.
When to plant in Australia
Warm climates: All year (frost free zones)
Cool climates: September – November
Temperate climates: August – November

Choose a sunny position
Tomatoes love the sun although you may need to provide some protection in extremely hot environments.
Avoid overcrowding your plants
Good airflow lessens the chance of fungal problems and decreases competition for water and nutrients.
Rotate your crops
Plants in the same families tend to suffer from similar pests and diseases so to lessen the chance of problems rotate planting beds. A three-year rotation is ideal. Tomatoes are in the Solanacea family and are related to potatoes, capsicums and eggplants.
Plant in acidic soil
The ideal pH for tomatoes is between 5.5 and 7.5. If you are planting in a container you can simply buy a potting mixture that is labelled as suitable for tomatoes.
Stake when planting and re-use old stockings
Put in your stakes (if necessary) when you plant your seedlings so the roots don't get disturbed later on. Old stockings are soft and don't hold moisture so are perfect for tying your tomatoes. For dwarf varieties mulch with straw to elevate the fruit and ensure they do not rot in the soil.
Water regularly
In hot weather water daily, especially during the flowering and fruiting stage although ensure you don't allow the soil to stay boggy. Focus on watering the soil and not the foliage and this will help prevent powdery mildew. Regular watering will also help to prevent the fruit's skin from cracking.
Provide compost
Add compost at the time of planting as this will provide your tomatoes with nutrients as well as fungi, bacteria and small organisms that are essential for healthy soil. Your tomatoes will also appreciate applications of seaweed solution every fortnight. It's best to avoid high nitrogen fertilisers because these will encourage leaf growth at the expense of flowers and fruit.
Try deep planting
This involves planting seedlings so that part of the stem is covered in soil and only the last two to four leaves are above the soil. By doing this the plants are thought to end up with a larger root system giving them a better start.
Mulch around your plants
Mulch such as straw or sugar cane mulch helps keeps roots moist, suppresses weeds and aids in the prevention of fungal diseases by stopping spores from plashing up onto the leaves.
Reduce the risk of blossom-end rot
This condition is caused by inconsistent water supply or a lack of or inability to take up sufficient calcium. Water plants regularly and provide calcium in the form of potash or finely crushed eggshells. If you continue to have problems check the pH of your soil with a soil testing kit.
Leave lateral shoots
Some people remove the early lateral shoots of tomatoes but this is unnecessary. So unless you are aiming to have a particularly neat looking plant just let them be.
Protect fruit from pests
Exclusion bags or netting can be used to protect your fruit from birds, possums and insects. Some people also use fine soft cloth bags. You can also companion plant with basil, borage, chives and marigolds.
image: Lionel Heidi (Flickr)
Harvesting
Cherry tomatoes take around 11 to 13 weeks to mature while larger tomatoes can take slightly longer.
Save your seed
It's easy to save your tomato seed and re-plant the following season. Share and swap with others to add variety to your harvest.
Storing your fruit
Your tomatoes will be happiest being stored on the kitchen bench out of direct sunlight. Refrigeration destroys the structure and taste of tomatoes.
What is your favourite variety of tomato? Do you plan to grow some this season?
SaveSave
SaveSave
SaveSave